Last Monday, we attended a screening organised by the Melodrama Research Group (also based at the University of Kent); the film in question was Rebecca (1940), and an excellent summary of the discussion afterward can be found here:
http://blogs.kent.ac.uk/melodramaresearchgroup/2015/10/27/summary-of-discussion-on-rebecca/
Since many of the core NoRMMA members at Kent are members of the Melodrama Research Group as well, we are aiming to provide a NoRMMA blog post for each film screened by the MRG this term. (This is the first of these films; the next will be Uncle Silas (Frank, 1947), which will be screened next Monday, November 2th. Do see the melodrama blog for more information.)
For this reason, I just wanted to share a few items in terms of the magazine treatment of Rebecca and its central stars, Laurence Olivier and Joan Fontaine.
This ad was published in Modern Screen, May 1940 – the use of the "faceless", unknown Rebecca in the background is a nice touch, since the unknown (or unknowable) is such a major theme of the film.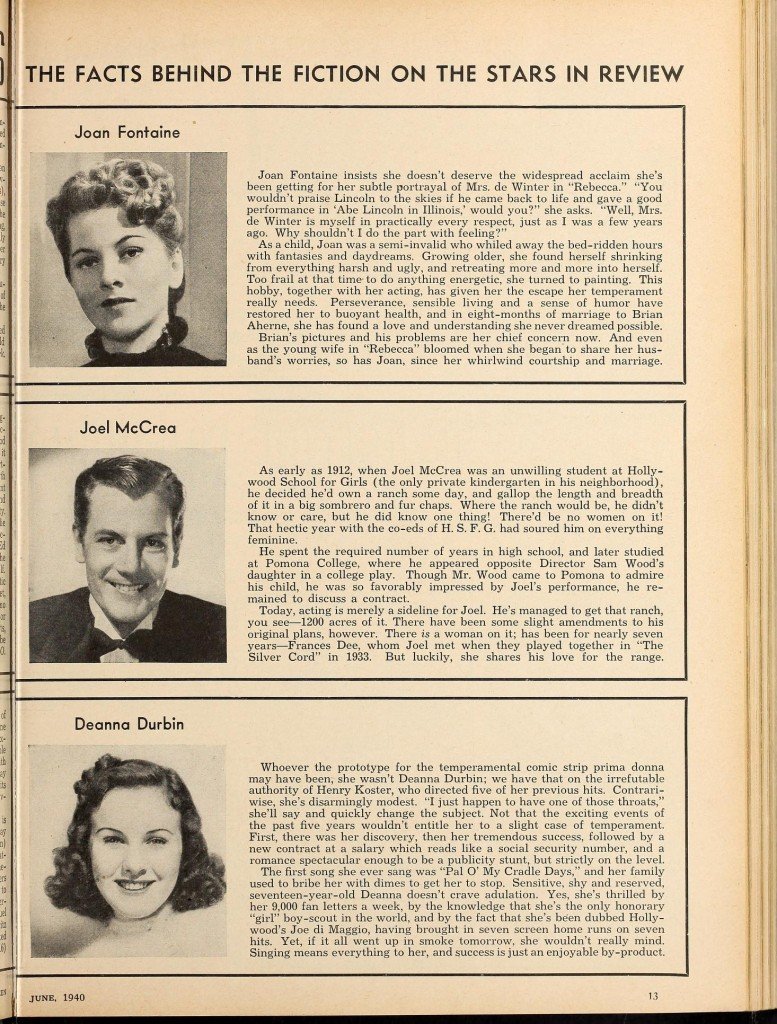 These are both from Modern Screen, June 1940. The star biographies mirror the reviews of the films, which is an excellent use of space. Particularly interesting in terms of the Fontaine blurb is the focus on proving the similarities between her and the character of the second Mrs de Winter – who is apparently Fontaine in "practically every respect".
Then there's this article in Screenland, four years later (August 1944) – it comments on Fontaine's role in another du Maurier story, Frenchman's Creek, and this time emphasises the transformation Fontaine has made since Rebecca – she is a "changed character" who can now star as a "reckless lady".
Some further coverage of Rebecca includes this page from Screenland (June 1940) which singles out Fontaine for her performance in this film – and notes especially that she is no longer just "Olivia de Havilland's little sister"!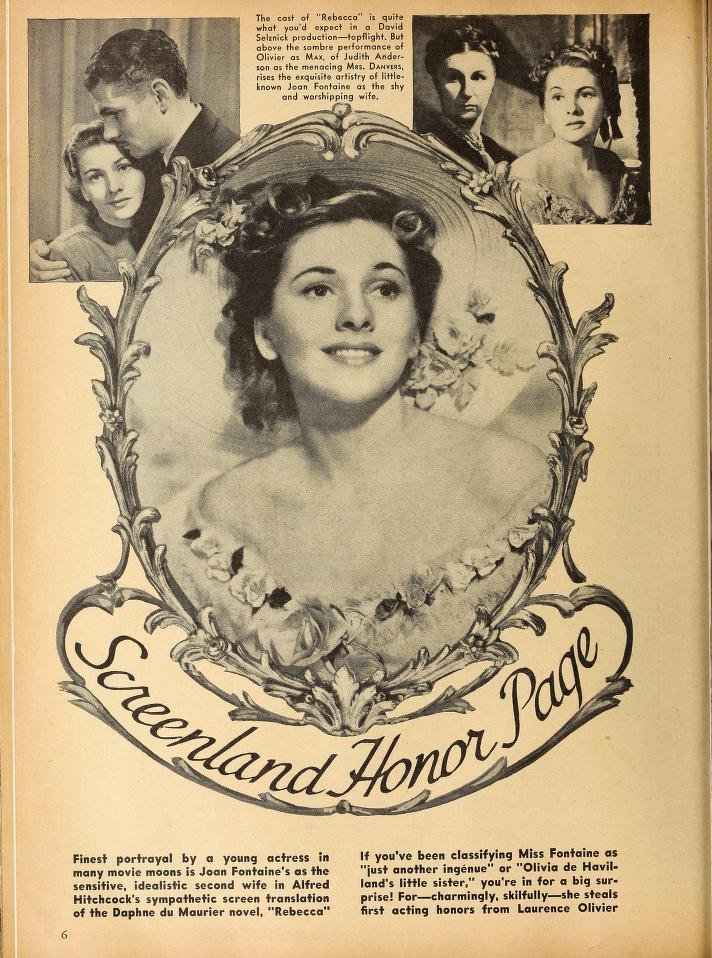 And the review of the film, from the same issue, which claims it should appeal "to sophisticates and sentimentalists alike".
And finally, some focus on the screen couple from Silver Screen (Feb 1940), which also highlights Olivier's previous cinematic success as Heathcliff in Wuthering Heights.
Do check in again next week for some magazine coverage of Uncle Silas!