I thought I'd mark the end of our Digitizing The War Illustrated project by writing a little about the launch of our digitized archive of this World War I era magazine. Thanks to the generosity of the National Lottery Heritage Fund, and of National Lottery players, these magazines are now available for all, for free, forever via the Internet Archive.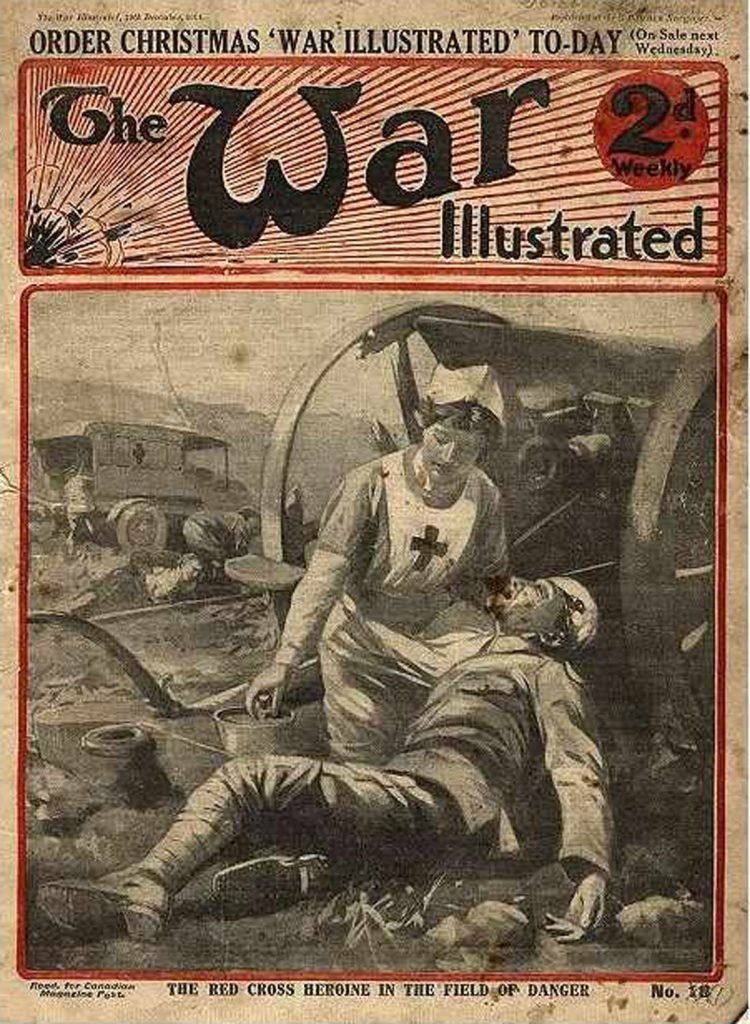 At our official launch on Saturday the 7th of September we were delighted to welcome back some of our workshop participants, as well as to see some new faces. It was lovely to see a range of ages taking part – from the under 10s, to the over 70s. We were moved that people travelled from across Kent, and the South of the UK, and as far away as Manchester. Speaking to some of those attending, it was gratifying to hear that news of our project has reached as far as Australia.
The launch began with era-appropriate music and dancing provided by the wonderful Ragroof Players. Louise hosted the afternoon, playing music as Anna and Martin danced a tango. Later on, tea dance attendees were, gently, encouraged to join in and be taught the military two step by Jo and Anna. Many enthusiastically took to the dance floor. It was especially useful that everyone could learn the steps necessary to lead or to follow, regardless of gender. This made it easier for people to partner up. Anna, Martin and Jo were also available to dance with participants, and to provide support and guidance.
While people where whirling around the dance floor, they had a chance to glimpse our project display boards. In quieter moments, they were able to take a closer look. The display boards included A3 posters from some of our workshop participants. Lisa arranged some striking covers of the magazines alongside general headlines about the war.
Candy's work surveyed the how The War Illustrated depicted Britain's relationship with the United States throughout the war. She began with analysis of an article written by the British novelist H.G. Wells from the magazine's first issue in August 1914, tracing references to America for four years, until an American soldier appeared on the cover of the magazine.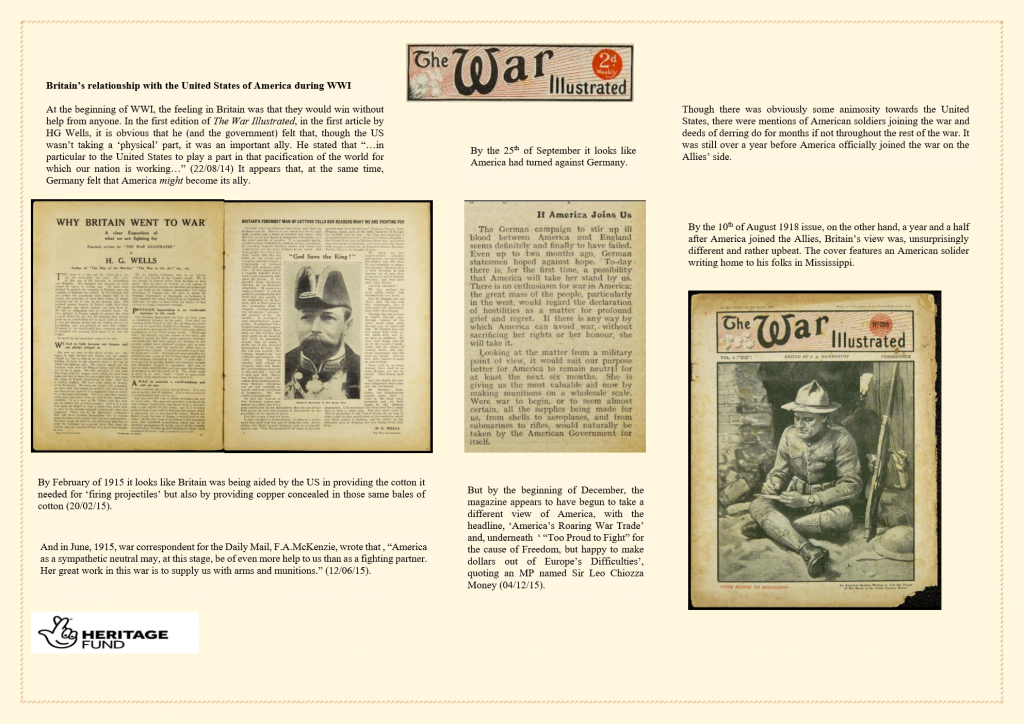 Carolyn's starting point was some people's assertions that myths and legends played an important part in boosting soldiers' morale. While she did not find this to be borne out by the magazine, she provided a detailed look at a page which addressed supernatural matters from October 1917. This included three fables: the Angels of Mons, A Flanders Ghost Story, and the Kitchener Myth.
I gathered together some of my thoughts about The War Illustrated's "Something to Smoke" campaign in poster form. I chose to include images which represented examples of the 3 main types of magazine coverage of this push to encourage readers to donate money to send tobacco to troops at the front: advertisements, lists of subscribers, editors' comments. (You can read more about the campaign on the blog here: www.normmanetwork.com/the-war-illustrateds-something-to-smoke-campaign/)
We also pinned some photographs of WWI solider and artist Noel Whittles, and his drawings, to the display boards. Many thanks to Noel's grandson, Dave, for providing these.
We offered other printed material: a booklet for everyone attending the launch to take away. This included a summary of the Digitizing The War Illustrated project. We gave background to NoRMMA, an introduction to The War Illustrated, information about our previous work with the magazine at The Beaney in Canterbury (Women's War Work – see the tab at the top of this page), theprocess of getting funding through the National Lottery Heritage Fund, and some details of our workshops. It was important to give information on how people can access the archive. We provided people with links to this blog, so that they would also have guidance on how to use the archive, and be able to see examples of some of our researches.
We provided information about the project in other ways. During a break from the dancing, Tamar spoke about the project. She described the importance of digitizing the magazines, especially for those who were interested in our Women's War Work project, but due to distance were not able to attend. (As briefly mentioned at the start of this blog post, those in Australia can now access the archive for free online.) Tamar also noted the limitation of all single title magazine archives. We can only build a comprehensive picture by consulting several publications and other materials, with this, of course, made easier if material is available for free online.
Eve, who had preciously attended one of our Women's War Work workshops at the Beaney, briefly introduced her and Rod's inspiring 15 minute audio-visual presentation. This addressed the changing attitude of the magazine to nurses. Her incisive voice-over gave a compelling narrative to the images she selected from the magazine. Emotional impact was added by the accompanying music: Ralph Vaughan Williams' The Lark Ascending. This peaked with a call to women to remember how far we've come in 100 years, but to be aware that there is still much work to do.
Dave then gave a wonderful PowerPoint presentation about his grandfather Noel Whittles. This included some of the images we had pinned to the display boards. Elsewhere on this blog you'll see our attempts to locate Noel inside the pages of The War Illustrated as well as useful links to other first world war sites online:
After providing some of Noel's biography, Dave very helpfully recounted some of his grandfather's war experiences. He shared the fact that occasionally, during more quiet times, Noel and his fellow soldiers would travel to a hotel for afternoon tea. This heralded the start of our afternoon tea, which included tea and coffee, delicious sandwiches, scones and cakes, all served at tables decorated with bunting and vases of flowers.
After this, some were ready for more dancing, with the group learning how to perform a dance from a slightly later era –the Charleston from the 1920s. The launch ended with a couple of the dancefloor being directed to part, and each invite a new person to get involved. This continued to snowball until all who wanted to dance were on the floor.
Many thanks to the National Lottery Heritage Fund, and National Lottery players, for their support. We'd also like to thank all those who attended so they could learn more about the impact of the First World War, and how to access the archive. We're especially grateful to Eve and Dave for their contributions. Thanks too to Frances for the photographs.