Before the Dirk Bogarde collection was delivered I engaged in a fair amount of 'pre-search'. Part of this was refreshing my mind on, and expanding my knowledge of, Bogarde's life and career. A look at his Wikipedia page was a good starting point, also providing avenues for me to follow, and references to access, at a later date. Other useful preliminary sources are the internet movie database (imdb), the BFI's site, the wonderful official Dirk Bogarde website, as well as more general internet searches. While the following is somewhat reductionist, it serves as good introduction to Bogarde, noting key points in his life and career. (It should be noted that it is possible that some of this information may not be accurate, since not everything circulating about stars is necessarily true. At times, stories in magazines, and elsewhere, contain inaccuracies or exaggerations which are then subsequently taken as fact.)
Bogarde was born as Derek Jules Gaspard Ulric Niven van den Bogaerde in West Hampstead, London, on the 28th of March 1921.His father, Ulric, had Flemish ancestry (as the original spelling of Bogarde's surname suggests) and was a Times journalist, while his mother, born Margaret Niven, was a Scottish former actress. Bogarde was later joined by a younger sister, Elizabeth (in 1924), and a brother, Gareth (born in 1933). Apparently, he spent some time with his mother's relatives in Scotland, after which he studied at several institutions, including the Chelsea School of Art. In 1939 Bogarde was an extra (uncredited) in the George Formby vehicle Come on George! He also apparently joined the Amersham Repertory Company this year, soon being credited in various theatre roles, including in the West-End. (You can find out more about Amersham, and the Amersham Playhouse, on the Amersham Museum's website) After World War Two broke out, he joined the British Army, serving in Europe and the Pacific. He was seen in a few television productions, which included playing one of the killers in Rope (1947, based on Patrick Hamilton's play and later made into a feature film by Alfred Hitchcock), before his over 60-film career really began the next year.
I will not list all Bogarde's films here (the websites outlined above provide more detail) but instead give an overview, focusing in on particularly interesting elements as they occur. Please also be warned, there are a few spoilers! In 1948 Bogarde was contracted to the British film studio the Rank Organisation and starred (billed 2nd) in the melodrama Esther Waters. He played a ne'er do well Victorian groom who seduces, impregnates, and then abandons a fellow servant, before running off with his employer's daughter. Bogarde was credited 11th in the 'The Alien Corn' segment of the multi-star Somerset Maugham anthology, Quartet, playing the son of an upper-class family who wishes to be a concert pianist but whose life ends tragically. Such variety (in terms of the class and character of the roles he played as well as genre and time setting) was added to as he took the role of a speedway racer in the action-packed Wessex-Films production Once a Jolly Swagman (1949) and the comedy Dear Mr. Prohack (1949). He played criminals in Boys in Brown (1949) and The Blue Lamp (1950).
During the 1950s, Bogarde starred in 25 films and was ranked from the top UK box office attraction (in 1955 and 1957) to a still very creditable 5th (1953 and 1959). Bogarde was again on the wrong side of the law in Hunted (1952) but was placed more centrally in a sympathetic part in which he befriended a child (Jon Whiteley). His first colour film was the comedy Penny Princess (1952), though his most famous, and long-running, role in colour films was as the medical student, and later qualified doctor, Simon Sparrow in Doctor in the House (1954). This was followed up by Doctor at Sea (1955), Doctor at Large (1957) and, after missing the 4th instalment (Doctor in Love in 1960), Bogarde returned one last time in Doctor in Distress (1963). Throughout this period, Bogarde also appeared in other genres. In 1954 he was in Joseph Losey's film noir Sleeping Tiger and the war film The Sea Shall Not Have Them. Bogarde's 1950s films also spanned various geographical settings: East-Africa in the tense Simba (1955), Spain in the drama The Spanish Gardener (1956, again befriending Jon Whiteley), Crete (playing a World War Two Major) in Ill Met by Moonlight (1957), Canada in Campbell's Kingdom (1957) and Burma and India in the romantic drama The Wind Cannot Read (1959).
Bogarde appeared in a similar number of films in the 1960s (a total of 23) despite leaving his contract with Rank in the early part of this decade. The 1960s also saw a brief flirtation with Hollywood films as he starred opposite Ava Gardner in the Italian-American The Angel Wore Red and as composer Franz Liszt in Song Without End (both in 1960). He was nominated for a Golden Globe as best actor in musical or comedy for the latter but lost out to Jack Lemmon for The Apartment. Following his return to Britain, Bogarde made some of his most critically acclaimed and socially significant films. By this time society was becoming more permissive, and films were better able to reflect this as they were less restrained by censorship. During this decade Bogarde contributed psychologically complex studies of often not very likeable characters. One area of life society and films continued to either persecute, prosecute, or conversely to fail to even acknowledge, was homosexuality. At a time when male homosexuality was illegal in Britain, Bogarde made a particularly courageous decision to accept the role of Melville Farr in Basil Dearden's ground-breaking Victim (1961). Farr is a successful, and seemingly happily married, barrister whose professional and personal lives are threatened when a man he has been involved with is blackmailed about their relationship. Bogarde was rewarded with a BAFTA nomination, and finally, in 1967, the UK partially decriminalised homosexuality.
1963 saw Bogarde again as a domestic retainer (as with his first starring role in Esther Waters) as he starred as The Servant. In this film, another collaboration with Losey, the servant Bogarde plays is far more sinister than that of 15 years earlier. He was awarded a BAFTA for his portrayal of the gentleman's gentleman who insinuates his way into a household and takes it over. Before appearing in another Losey film, the anti-war King & Country (1964), Bogarde starred opposite Judy Garland as her estranged husband in the UK/US co-production I Could Go On Singing (1963). Bogarde also appeared in the important British film about contemporary society, Darling (1964), winning another BAFTA. Variety, and light-heartedness, was added as he played a writer turned inadvertent spy in in the comedy Hot Enough For June (1964). Continuing in this vein, Bogarde re-teamed with Losey in the highly camp comedy Modesty Blaise (1966), playing a criminal who has his own Mediterranean island. More usual sober Losey fare was revisited as Bogarde was cast as the unsympathetic professor in Accident (1967). For this film, as well as his role as a returning, but no-good, father in Our Mother's House, Bogarde was nominated for another BAFTA. 1969 was marked by a move to international productions: the American drama Justine and Luchino Visconti's thought-provoking and disturbing film about Nazism – The Damned.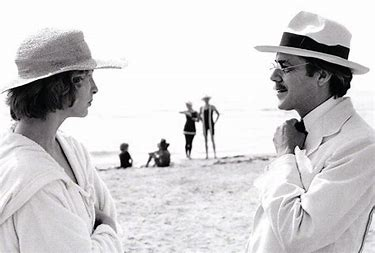 In the 1970s Bogarde made far fewer films (a total of 7), continuing to play complex characters, but moving more fully into European cinema. He had lived in Buckinghamshire from the end of the 1940s until he moved to France with his agent and partner, former actor Anthony Forwood, in the late 1960s. Bogarde was again directed by Visconti, and once more the film, Death in Venice (1971), covered provocative ground: it centres on a professor with a seemingly paedophilic interest in a young boy. Another BAFTA nomination was forthcoming, and Bogarde proceeded to play another morally bankrupt character: the former Nazi prison guard renewing his acquaintance with former prisoner Charlotte Rampling in Liliana Cavani's controversial The Night Porter (1974). In 1977 Bogarde appeared in the big budget and popular multi-star world war two film A Bridge Too Far directed by Richard Attenborough. Continuing to work with innovative and well-known directors, he was also in Alain Resnais' Providence (1977) and Rainer Werner Fassbinder's Despair (1978).
In 1977 Bogarde had published his first autobiography/memoir A Postillion Struck By Lightning. He added another 7 volumes to his life story, the last, Cleared For Take-Off, issued in 1995. Writing kept Bogarde far busier than acting from the late 1970s onwards. He also wrote fiction, commencing his career as a novelist with A Gentle Occupation in 1980 and ending it with his 6th work, Closing Ranks, in 1997.
Bogarde's twin careers as actor and novelist were brought together when he read a 12-part adaption of his 5th novel, the Provence-based Jericho, for radio in 1993. His writing was also represented by an issuing of his collected journalism in 1998. This covered book reviews and anecdotes, most of which originally appeared in the Daily Telegraph. These were written from the late 1980s onwards, following Bogarde's return to Britain from France in 1988 after the death of his partner. Personal correspondence not originally intended for publication was gathered, edited by John Coldstream, in Ever Dirk: The Bogarde Letters in 2009.
Despite Bogarde's increased focus on writing he appeared in the TV production The Patricia Neal Story in 1981. This traced the actress' recovery from a stroke with the support of her then-husband the novelist Roald Dahl (Bogarde, opposite Glenda Jackson as Neal). Both were nominated for Golden Globes. Bogarde also wrote, and included a part for himself, in the TV movie May We Borrow Your Husband in 1986. His last film role was as Jane Birkin's father in Bernard Tavernier's French film Daddy Nostalgie (1990). Bogarde was honoured for his acting skill throughout his career (as evidenced especially in the 1960s by his string of BAFTA wins and nominations) but the recognition continued after the main part of his career ended. He received the British Film Industry Fellowship in 1987, a BAFTA tribute Award in 1988, France's L'Order des Artes et des Lettres in 1990, a London Critics Circle Film Award in 1991 and a knighthood in 1992. Dirk Bogarde passed away in Chelsea, aged 78, on the 8th of May 1999.
The above is a necessarily condensed version both of Dirk's life and career. Are there any particular aspects you'd like to see added or dealt with in more depth? Do you have any favourite Dirk films or experiences of him in 'real life'? Please leave a comment or contact me, Sarah Polley, by email on sp458@kent.ac.uk
In the next post I'll detail more of my 'pre-search'. This includes researching academic work and other publications about Bogarde, as well as more on some of the archives dedicated to him. I'll also reflect on star studies theory and methodology.
(by Dr Sarah Polley)