Today, we bring you the last of Dr Sarah Polley's posts on the Dirk Bogarde Collection – thank you very much for this fascinating series, Sarah, and we all look forward to reading more of your work in the future!
For those of you interested in Dirk Bogarde, please do also consider having a look at the Melodrama Research Group blog, which is maintained by Dr Polley, and which contains a number of great introductions and discussion summaries pertaining to the recent season of Dirk Bogarde screenings by the Melodrama Research Group at the University of Kent.
Now, a final update on the Dirk Bogarde Collection…

I'd now like to consider the presence of archival material relating to Bogarde beyond the collection, and to further contextualise his place in British and European Cinema. Searches of the complete runs of both Picturegoer and Picture Show via the University of Kent's Templeman Library have revealed that the large majority of the main articles on Bogarde are included in the collection. I also consulted the Media History Digital Library's (MHDL's) database of mostly US fan magazines (http://mediahistoryproject.org/). This seemed to yield little, but while the number of fan magazine titles is extensive, it is not complete, and in any case Bogarde's popularity mostly occurred in the 1950d and 1960s – while the MHDL mostly ends in the 1940s.  Like the official Dirk Bogarde website, such searches particularly direct our attention to a single star, though as with the physical collection it is possible to leaf through complete issues in detail to provide further context.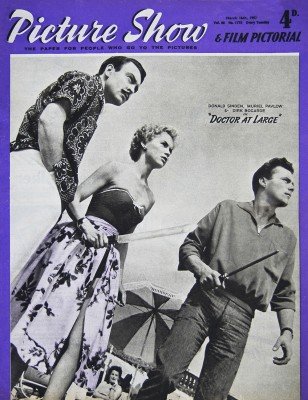 Similarities to, and differences from, other stars help us to pin down what is particular to Bogarde and his appeal to audiences then and now. We can compare the types of roles Bogarde played over time (his range across various genres and move from heroic to more complex depictions or unlikeable characters), his career trajectory (a quick rise to stardom, high popularity through the 1950s, a decrease in the number of films made from the 1970s onwards) and coverage in magazines to especially other British male stars. In Bogarde's films, and his magazine coverage, he is occasionally related to other male stars – including his Doctor co-stars Donald Sinden and Kenneth More. We can examine whether More was also thought of as a matinee idol, and linked to female co-stars (and if these were or were not British), if his home was sometimes the subject of articles and if he was credited with writing any fan magazine material.  Another popular 1950s actor, Alec Guinness, like Bogarde also became a memoirist and it will be useful to see whether he too was considered to be a writer by fan magazines.
Working on this project has also given me a valid excuse to revisit British cinema, including watching British films. It has been great to discover the presence of the wonderful Freeview TV channel Talking Pictures TV. Taking Pictures screen predominately US and UK films, mostly from the 1940s and 1950s, though also including some from the 1930s and up to the 1980s. Several Bogarde films have been screened in the last few months including: Quartet, Esther Waters (both 1948), Once a Jolly Swagman (1949), The Woman in Question (1950), Hunted (1952), For Better For Worse, They Who Dare (both 1954), Campbell's Kingdom (1957), The Servant (1963), Hot Enough For June (1964). Other Bogarde films are available on Freeview channels (Appointment in London (1953), The Sea Shall Not Have Them (1954), The Singer Not the Song (1961)), on DVD or online. It has also been fun to see other British films from the 1940s-1960s, in order to add further context to the film and stars of the time.
This is my last post for now, but do comment or email me, Sarah Polley, on sp458@kent.ac.uk I hope to post further on magazines as my research continues, perhaps posting anything especially related to melodrama on the University of Kent's Melodrama Research Group blog: https://blogs.kent.ac.uk/melodramaresearchgroup/