We have broadly split the papers into those dealing with magazines, and those addressing stars.
The magazine papers LIVE Q and A will take place on Tuesday the 9th of February from 5-6pm GMT.
Please see the conference schedule for more details of our events: Conference Schedule – NoRMMA (normmanetwork.com)
To register for the conference, please email us on normma.network@gmail.com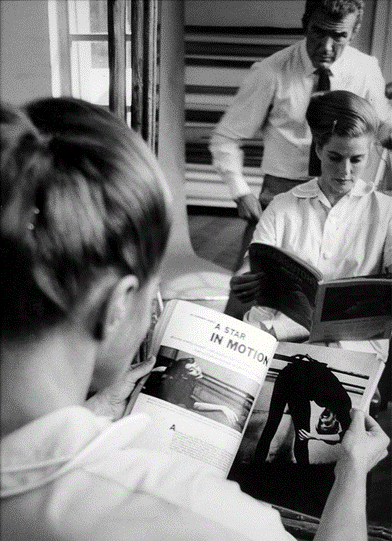 MAGAZINES
Panel 1: The film industry
Jennifer Voss
'Here nature betrays her': A performance studies perspective on movie magazines, scrapbooks, and silent film acting
Within the scrapbooks belonging to silent film star Colleen Moore is a clipping of an article from the Los Angeles Examiner, suggesting that certain screen actresses were unable to contain or control their 'natural', deepest emotions on screen. Below the text, there is a series of close-up images of Moore's eyes, shown to be depicting, Love, Hate, Fear, Joy, Grief. The heading reads:
Eyes Betray The Flapper!
…
To be modern, you emote like a stone. But watch her orbs. Ah! there she's betrayed. Below is Colleen Moore, prize flapper of the films, showing how Nature knocks that sphinx-like pose for a goal!
(Colleen Moore Scrapbook No.2)
The language used to describe Moore's expressive style of performance here, offers a direct engagement with contemporaneous expectations and understandings of screen acting, supported by the dissected images of her eyes. This combination of images of stills from screen performances, alongside a commentary on the representation of emotion, demonstrates how newspaper and magazine coverage of silent film stars can offer a pertinent lens through which actresses' performative personas and their screen acting style can be explored.
Drawing on the methodology underpinning my PhD research into screen acting throughout the transition from silent to sound, this paper will consider how magazines can be fruitfully employed alongside autobiographical material, interviews, and studio records, to support the analysis of performance in silent film. Focusing on actresses such as Colleen Moore and Norah Baring, this paper will consult a range of magazine sources from both Britain and America, to analyse how the combination of stylised images of stars, presented alongside articles and captions, can inform the analysis of an individual actress's performance style.
This paper will draw on archival sources held within the Margaret Herrick Library, Lantern, and the British Newspaper Archive, and will highlight the variety of mediums in which these different magazine sources manifest, and their distinct uses; particularly when the articles are presented as being written by the actresses themselves.
Biographical note
Jennifer Voss is a final year PhD candidate in Drama Studies and Film History at De Montfort University, and is funded by the AHRC in partnership with Midlands 3 Cities. Jennifer's doctoral thesis, which uses performance theory to build upon a traditional film studies approach to historical research, focuses on actresses' performance of emotion during the transition from silent to sound cinema in Britain and America.
Tamar Jeffers McDonald
Wielding the scissors: play and politics in movie magazines, 1933-34
In its December 1933 and January 1934 issues, movie magazine Modern Screen ran a competition tied to the imminent release of a new MGM film, Dancing Lady. Top prize: a trip to Hollywood to visit the film's star, Joan Crawford. The magazine used MGM's Dancing Lady stills and printed them cut into odd shapes: to win, readers needed to cut out and rejoin the images. This task supported the film's marketing, encouraging readers to see the movie, as it would be difficult to complete the puzzles without knowing the scenes from which they came. The stars' disarticulation served a more symbolic purpose, however. While cutting up movie magazines was not new, as archived scrapbooks attest, participants here were encouraged to cut not around Crawford's outline but across her face. Although ultimately the stars' famous features and bodies were reconstructed, the damage persisted; the lines of cutting visible remained.
Importantly this symbolic criticism of cutting came at a time that Hollywood as an industry began to face increasing calls for censorship, as external pressures from religious and civil groups campaigning for stronger powers of suppression and excision mobilized. Rather than acting as a playful visual pun on the technology of editing – slicing and joining pieces of film – the concept of cutting was used by Modern Screen symbolically, to co-opt readers' rejection of censorship as an institution that would spoil their enjoyment of the stars. The image of a hand wielding scissors, again cutting a famous face, was used in an overt anti-censorship article in the magazine only a few months later.
This paper considers the contest against its wider industrial background, attesting that movie magazines, often dismissed as puerile publications, could actually deal with serious political topics, perhaps especially effectively since tacit messages would be uncovered during play.
References
Desjardins, Mary. 2014. "'Fan Magazine Trouble': The AMPP, Studio Publicity Directors, and the Hollywood Press, 1945-1952", Film History, 26 (3): 29-56.
Gitleman, Lisa and Geoffrey B. Pingree. 2004. New Media, 1740-1915. Cambridge, MA: MIT Press.
McBride, Patrizia. 2016. 'Weimar-Era Montage: Perception, Expression, Storytelling' chapter in The Chatter of the Visible: Montage and Narrative in Weimar Germany. Ann Arbor, MI: University of Michigan Press: 14-40.
Wood, James Playsted. Magazines in the United States: Their Social and Economic Influence. New York: Ronald Press Co., 1949.
Biographical note
Tamar Jeffers McDonald is Reader in Film at the University of Kent. She read English at Somerville College, Oxford, before being awarded her PhD in Film by the University of Warwick. She is the author of several monographs (on romantic comedy; film costume; and movie magazines' impact on star persona). Her most recent publication is a co-edited collection, Star Attractions: Movie Magazines and Global Fandom, was published in 2019 by Iowa University Press. Her email is t.jeffers-mcdonald@kent.ac.uk
Panel 2: a single film in fan magazines
Joel Casey
Never the Twain Shall Meet? Race, Contact, and Desire on the Page in Picture Show
My paper, a recorded Powerpoint presentation, works outward from an 'Art Supplement' in the 26th March 1921 issue of Picture Show. I analyse the relationship between its central two-page spread of Richard Barthelmess and Lillian Gish in Way Down East (1920) and a photo series on the other side of the page entitled, 'East & West in Screenland', which depicts a series of films in which (East, West, and South) Asian characters have romantic relationships with white Europeans or Americans. This double-sided page relies on the reader's knowledge of Gish and Barthelmess's previous collaboration in Broken Blossoms (1919), a link between the two stars and the 'East and West' opposition which raises broader questions about desire, interracial relationships and sexual or romantic contact on screen. These stills 'freeze' the moment of sexual frisson or contact that, in the film itself, could never be actualised, as explicit and implicit codes and censorship that banned interracial relationships on screen required that these romances failed. I suggest that these form a subversive and alluring, 'underside' to the more conventional, and seemingly rather boring, relationship between the (white) 'Village Sweethearts', Gish and Barthelmess; the fan magazine reader can either overtly display this or know that it is hiding behind the image on the front.
Looking at Picture Show as a British fan magazine specifically, I connect these questions to the context of British anxieties about Americanisation through cinema and the racialised underpinnings of many of these concerns. Examining Broken Blossoms as a film in which 'East meets West', I explore its British reception to contextualise Picture Show's illicit pleasure in the frozen stills. I hope to show with this paper the value of close analysis of not just page layout but the editing of the magazine as a whole and its status as a physical object. Through my engagement with double-sidedness, connection and contact, I will demonstrate what might also be lost with the very important work of endeavours like the Media History Digital Library, which deny scholars the opportunity to feel and experience the materiality of the physical
Biographical note
Joel Casey is a DPhil candidate at St Anne's College, University of Oxford. After studying English Literature for his undergraduate degree and an MPhil in Film and Screen Studies on silent British cinema set in London, his DPhil thesis explores the ways in which race and colonial thinking underpin discourses about film performance in British cinema and cinema culture. The thesis is particularly concerned with the influence of imperial geographies on the settings, stages, and spaces in which film performance takes place. More generally, he is interested in space, setting and architecture, and the body and the senses in cinema. He is also co-chair of the Oxford Silent Film Society.
Rahul Kumar
The Invisible Man and Fan Magazines: Monstrous Desire and Corporeality in Cinematic Paratexts
In this paper, I will look at the advertisements of The Invisible Man (James Whale, 1933) in fan magazines and journals such as The Film Daily, Motion Picture Herald, Universal Weekly, Variety, and Movie Classic. A study of the Universal horror/monster films in the 1930s through print paratexts is useful to formulate a close connection between film and print which will allow us to interrogate the sites and movements of cinema as affect and also understand how cinema as an object is constituted in fundamental ways through convergence with other media. These advertisements were black-and-white prints, usually spread across two adjacent pages of the magazine. I will argue that the central theme of Universal's publicity campaigns for The Invisible Man can be understood through the premise of Jeffrey Cohen's (1996) theses on monster theory, according to which the fear of the monster is a kind of desire, and that the monster demands a radical rethinking of boundary and normality. The simultaneous fear and the lure/desire of the monster was at the core of these advertisements. The achromatic advertisements are particularly interesting because Universal focused on the spectral corporeality of the Invisible Man and made the problem of representing this invisibility its publicity theme. Universal claimed that while the question of representing the Invisible Man on film was resolved, its representation in print, especially advertisements in magazines, was still open-ended. Formulated along a minimalist aesthetic and through the use of shadows, silhouettes, and white spaces that highlighted absent presence to represent the invisible monster, these advertisements were predicated on the formlessness of the Invisible Man. The earlier Universal monsters like the Frankenstein's Monster, Dracula, and the Mummy had a well-defined physical appearance unlike the Invisible Man. I will argue that the idea of the new monster's corporeality existing outside the boundaries of the physical world was also about defying the familiar ways of conceptualizing and categorizing a monster. This crisis of representation was a theme that Universal hooked on to, and created an entire publicity campaign around it.
Biographical note
Rahul Kumar is a Ph.D. student at the University of Pittsburgh in Film and Media Studies. He did his bachelor's and master's in History from University of Delhi and Jawaharlal Nehru University respectively. He also holds an M.Phil. in Cinema Studies from the School of Arts & Aesthetics, JNU New Delhi. His research engages with the histories of fandom and nostalgia, cinematic paratexts, and media archaeology. In his doctoral work, he plans to look at the fandom produced through filmic paratexts, especially print, and how it shaped a film literate audience. He seeks to explore the ways in which these paratextual outposts configured the spheres of public opinion and participatory culture in the pre-digital era, and have created new knowledge spaces through collective intelligence in the digital.
Panel 3: Audiences
Ellen Wright and Phyll Smith
'[They charge members] about four shillings a year for the privilege of receiving a photograph and regular printed gossip': Context, content and form in 1940s British film star fan club publications
This paper comes out of ongoing research that considers valuable historic examples of visible and 'invisible' star and fan labour, in a socio-industrial context long before social media celebrity culture and the neo-liberal focus upon one's self-improvement and building yourself as a brand.
It will examine the concerted development of a coterie of popular British film stars and their fan club culture during the mid to late 1940s, through studio-sanctioned but fan or star-produced magazines and bulletins for the official fan clubs of British actors and actresses such as Jean Kent, Anne Crawford, and Richard Attenborough.
Recently digitised by De Montfort University, these rare, engaging, supremely collectible and yet academically overlooked resources, form a coherent body of fan media ideally suited for the detailed scrutiny of an online conference.
These materials raise a number of surprisingly prescient issues around the uncredited but essential star labour that nurtures and maintains a star's unique brand, offering parasocial precedents and valuable insights into visible and invisible star and fan labour and film fandom more generally. But beyond this they provide fascinating insights into the post war British stars and the star system, and the lives and complex, differentiated culture of British post war film fan consumption, whilst also demonstrating how socio-cultural, industrial and economic factors shape form and convention.
Biographical notes
Dr Ellen Wright (ellen.wright@dmu.ac.uk) is VC 2020 Senior Lecturer in Cinema and Television History at De Montfort University.
She has taught film studies, media studies and photographic theory and her research expertise is in the leisure industries, consumer culture and broader social contexts surrounding Hollywood cinema in the mid-twentieth century, focusing, in particular, upon representations of gender and sexuality often found in the material culture of film.
Her most recent publications have appeared in Celebrity Studies and the Routledge edited collection Sport, Film and National Culture.
Phyll Smith (phillip.smith@uea.ac.uk) writes on the cultural politics of fringe media texts – ancillary or unofficial media (by)products and their producers and consumers: non-feature film products of the 1930-40s such as Serials and newsreels, and their print tie-ins and commentaries, in comics, programmes, and magazines; and unofficial publications such as political pamphlets, fan magazines and cartoons.
He teaches at University of East Anglia, and is researching a PhD on American film Serials, their cinemas and audiences.
María Paz Peirano
The missing piece: Imaginary audiences in Chilean fan magazines of the 1940s
The paper analyses the imaginary constructions of local audiences that we can find in Chilean fan magazines, particularly the Ecran (available at http://www.memoriachilena.gob.cl), one of the few specialised written and visual sources of the 1940s. This presentation is part of a larger research project about movie theatres and cinemagoing practices in Santiago, which combines archival research with in depth interviews to understand film audiences' experience in this period. This paper presents the results of the first stage of this research, analysing the image of local audiences constructed by film magazines. I argue that Ecran's strategies to engage with its readers allow us to observe the audience through the eyes of the press, by analysing direct references (such as editors' descriptions and impressions expressed in screening reports) and also other forms of readers' participation, including letters, rakings and local contests. These audiences' appearances can be contrasted to the ideal social images that Ecran communicated, through advertising, photographs, and Hollywood reports, which installed some expectations and desires of modernity that not always corresponded to the imaginary Chilean audiences encoded in the pages of the magazine. Exploring these rifts provides some valuable information not only on the actual behaviour of local cinemagoers but particularly on their desirable traits and also the media strategies and negotiations to respond to these imaginary spectators. Although magazines have hardly been explored in local film history, these results suggest that they might shed some light on a missing piece – that of local readers and cinemagoers- especially considering the absence of any data about historical audiences in Chile.
Biographical note
María Paz Peirano is an Assistant Professor in Film and Cultural Studies at Universidad de Chile, with a PhD in Social Anthropology from the University of Kent (UK). Her research involves an ethnographic approach to film as social practice, focusing on the development of Chilean film culture, exhibition and transnational circulation. She has co-edited the book Chilefilms: el Hollywood Criollo (Chilefilms: the Creole Hollywood, 2015) about the Chilean film industry of the 1940s, and the volume Film Festivals and Anthropology (2017). She has published about the Ecran film fan magazine in the volume Mapping Movie Magazines (Biltereyst and Van de Vijver, 2020). She is currently co-investigator of "Cartelera histórica: Film exhibition and reception in Santiago between 1918 and 1969" (PAI 79170064) and the lead researcher of "Chilean film audiences: film culture, cinephilia and education" (FONDECYT 1211594).
Panel 4: Specific magazine issues
Carolyn King
Spanking Vivien and Cary's Dilemma: Picturegoer Goes to War
The magazine [Picturegoer] should not be regarded as an open window to the world of film fandom, but it can be analysed as a representation of popular film culture in wartime, and one that was, itself, popular (Glancy, 2011, 456).
By March 1940, British film magazine Picturegoer Incorporating Film Weekly was already the UK's longest running and most popular film magazine with a readership that is estimated to have reached 500,000 people for each issue (Glancy, 2011, 453-478).
In this paper I will be looking closely at the 2nd March 1940 edition of the magazine. I will focus on the experience of consuming the magazine, exploring the 'movement back and forth' across the pages and the effect of this on a reader (Stein, 1992,149).
I will be considering the ways in which assumptions are made about gendering in the reading experience, considering how advertisements work in conjunction with features and articles. I will also be considering the ways in which gender and nationality is represented in articles, reviews, letters and advertisements whilst also examining the ways in which anxiety about war and the wider political situation seeps into the discourse about film and stardom.
In this edition of the magazine, which is focused almost exclusively on Hollywood films and stars, there is a particular emphasis on the British stars working in the US industry and their responsibilities in a time of war. The periodical's use of images and its dominant voice express attitudes about gender, nationality and class that are often revealing and sometimes contradictory. The expression of concern about Hollywood and its output reveals the importance of American film to British audiences, particularly at a time when so much of everyday life was under threat.
References
Glancy, Mark, 'Picturegoer, the Fan Magazine and Popular Film Culture in Britain during the Second World War' Historical Journal of Film, Radio and Television Vol.31, No. 4, December 2011, 453-478
Stein, Sally, 'The Graphic Ordering of desire: modernisation of a middle class woman's magazine, 1914-1939) in Richard Bolton (ed.) Contest of Meaning, Critical Histories of Photography, Cambridge MA:MIT press.
Biographical note
I am in the final months of a CHASE funded PhD in Cinema History at the University of Kent with supervisor, Dr Tamar Jeffers McDonald. My subject is 'British Gothic Masculinity in Transatlantic Cinema', with a focus on the 1930-40s. I graduated with a Distinction in MA Gothic Studies from Manchester Metropolitan University in 2016, where my dissertation topic dealt with Victorian and neo-Victorian Sensation novels. My interests are British and Hollywood cinema 1920-50s, Victorian literature, UK Gothic television, 1960-90s.
Sarah Polley
Leafing Men and Ladies: Fan Magazines and Reading Strategies
Sally Stein's 1985 article 'The Graphic Ordering of Desire: Modernization of A Middle-Class Women's Magazine, 1914-1939' examined the distribution of editorial and advertising content at five-year intervals in the US women's magazine Ladies Home Journal. Stein argued that because magazines are 'underwritten by advertisers' (Stein, 1985 p. 9) the placement of advertisements is especially significant. While advertisements are often located in regular prime spots – the inner front and back covers for example – many are placed among continued editorial content towards the end of magazines. Encouraging readers to leaf to the back of a magazine to finish features means that they are led to advertising content.
Rather than examining the reading strategy of one fan magazine over time, I will focus on single issues of three different UK fan magazines from the same date – September 1955. These publications are the weeklies Picture Show, Picturegoer and Photoplay UK – a version of the pre-eminent US fan magazine Photoplay. This work in progress will examine the reading strategies of fan magazines by focusing on the types of coverage (e.g. readers' letters, fictionalisations, articles on stars) which continued later, often among product advertisements. The content of these advertisements, and especially if they appear to have had a particular gender address, will also be commented on.
We cannot know if readers actually followed such directions, or indeed who, if anyone, bought the products advertised. But considering which types of coverage were continued later in fan magazines yields useful insights into what those responsible for different fan magazine titles thought mattered to their readers.
Reference
Stein, Sally. 1985. 'The Graphic Ordering of Desire: Modernisation of a Middle-Class Women's magazine, 1914-1939', Heresies, vol 5 no 2 issue 18: 6-16.
Biographical note
Sarah Polley is an Honorary Fellow at the University of Kent. She completed her PhD 'Embracing Star Couples: Contextualizing Star Images in Hollywood's Studio Era' at the same institution. She has a chapter in Tamar Jeffers McDonald and Lies Lanckman's edited collection Star Attractions: Movie Magazines and Global Fandom (2019). Her interests include stardom, British and Hollywood films 1920s-1950s, and fan magazines.