As part of our conference, we are excited to include a watchalong of a relevant film. A Star is Born (1937) will be available to view, and comment on via Discord, between 5pm and 7pm GMT on Thursday the 11th of February. If you are unable to join us live, please do visit Discord after the live chat has ended to add your thoughts!
While you are likely to be familiar with the film, I've written a short introductory blurb: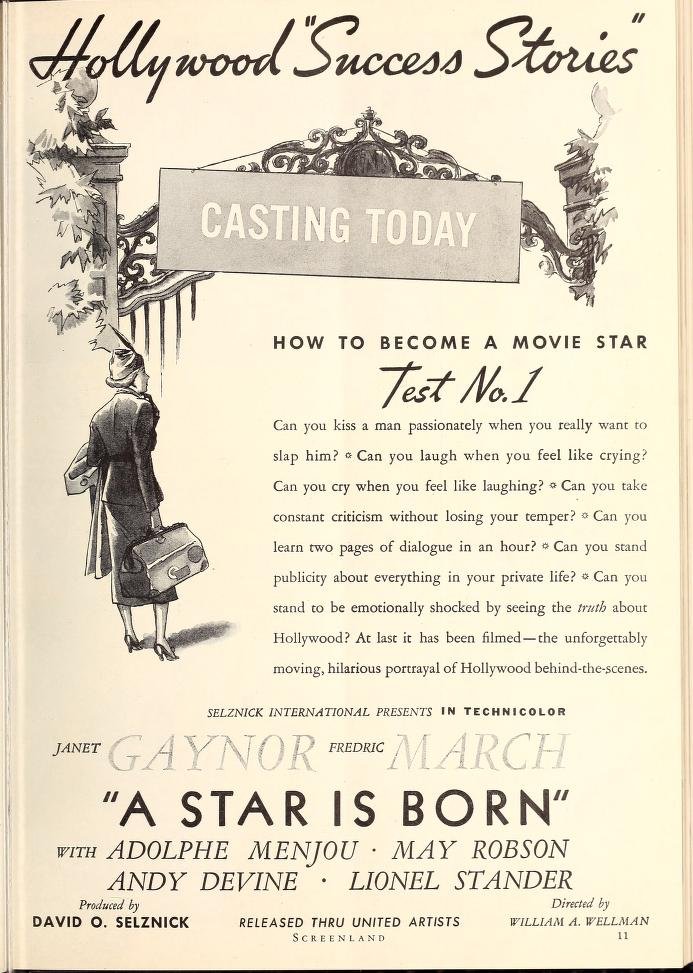 William A. Wellman's A Star Is Born (1937) was not the first Hollywood film to depict a star's rise to the top. George Cukor's What Price Hollywood? (1932) starred Constance Bennett, Lowell Sherman, and Neil Hamilton. However, A Star is Born's fusion of the characters played by Sherman and Hamilton into ageing star Norman Maine (Fredric March) who is eclipsed by his young wife Vicki Lester (Janet Gaynor) has proved especially enduring. It was remade, with songs, by George Cukor in 1954 (with Judy Garland and James Mason). Post Hollywood's studio era, more recent versions have been set in the music industry. Barbra Streisand and Kris Kristofferson in Frank Pierson's 1976 version and Bradley Cooper and Lady Gaga in Cooper's 2018 reboot.
Hollywood's reflection on itself at the time where it had most control over its stars is especially informative on star build-up. The changing of Vicki's name from her less appealing original, Esther Blodgett, occurred for real stars – for example Judy Garland's birth name was Frances Gumm. The remodelling of Vicki for the movie-going public also includes her appearance (the famous scene where she faces the make-up men), training in deportment and acting and, perhaps more relevant to our conference, the insertion of information about her in gossip columns.
We look forward to viewing this film with those attending the conference! Objects of discussion may include, but are not limited to; the film's depiction of star build-up; Esther, and us, as movie fans (your stories about trips to Hollywood are encouraged!); reflections on Gaynor and March as stars; how Technicolor contributes to the film; the later versions of the film.
We hope to see you there!